Introduction of HS-G3015C fiber laser cutting machine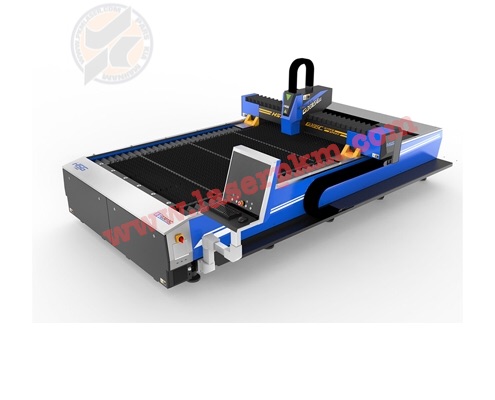 Metal cutting machine model HS-G3015C is designed and produced for cutting metal plates made of iron, steel, copper, brass, aluminum, and galvanized sheet.
The use of laser and fiber optic source technology has made it possible to cut thicker sheets of much better quality.
Laser cutting machine source This industrial laser device can be changed from 1500 to 3000 watts.
  Technical features of fiber laser cutting machine
The body of the device can work for at least twenty years without change due to the high accuracy in the design, construction, and use of advanced tensioning systems.

In order to easily guide the sheet, the machine is equipped with metal rotation balls.

Increase the life of the lens by using a lens protector

Perform cutting with high speed and low cost.

Possibility of continuous operation due to the high power of the laser source and its cooling system

Use of German and Swiss technology in the design and manufacture of laser heads

Equipped with Panasonic servo motor

Movement system based on Ball Screw or Rack & Pinion

Ability to arrange the map with the least amount of raw material loss with the help of Camp Cut device control software

It has an automatic inlet gas control system made by Aventics

Equipped with automatic Foucault Singh system

Possibility to install laser source from 1000 watts and up

 Convenient and easy operation on ferrous metals, aluminum, copper, and brass
 Coordinate features of fiber laser cutting machine
  Order work table up to dimensions of 2000 × 6000 mm

  Standard dimensions of work desk 1500 × 3000 mm

  Cutting accuracy up to 0.03%

  Movement accuracy of the device up to 0.01 mm

  Dimensions of the device 4600 × 2450 × 1700 mm

  Maximum acceleration of the device 2 G
  Click to download 1500 watt IPG source cutting tables for different materials and thicknesses.
  Description
 

 Use parts with high quality Japanese and European brands

  Scientific design of the body of the device and thus increase the durability of the initial accuracy

  The experienced and trained after-sales service team in order to solve possible problems as soon as possible

  Ability to install an alternative source in case of time-consuming repair of a possible device source defect

  Repair and supply parts needed domestically without the need for China, in most cases

 Reasonable and competitive price

  Professional training of the device operator in order to get the most out of it
  Interests
 

 Increase the productivity of the production or service unit by increasing the production speed and quality

  Significant reduction in sheet casting (this number will be particularly significant in colored and steel sheets due to their high cost)

  Ability to design and manufacture various and new products quickly and cheaply with any circulation without the need for molding

  Ability to eliminate many pressing processes and molds used in production lines

  Fast assembly of parts after bending through the dramatic improvement of sheet cutting quality

  Ability to cut complex shapes and designs with very small dimensions for use in decorative and modern industries

  The very low maintenance cost on a laser machine, compared to conventional cutting methods (about $ 200 per month)
This post is also available in: Persian