Gravity Surround Full-hollow Machine Bed
---
GV Series
Innovative gravity surround full-hollow machine bed specialized for ultra-high-power machine, no square tube in the middle,
no baffle in the cutting area, bed free from high-temperature roasting, no deformation, more durable.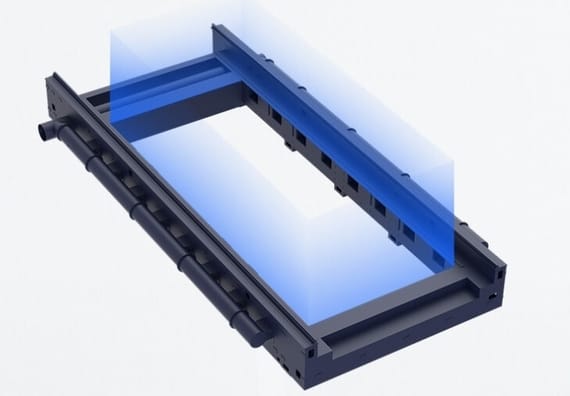 Innovative Anti-asynchronous Hydraulic Lifting
---
Patented innovative guidance system can make workbench lift or fall stably even when four cylinders are out-sync, and bring them
into step intelligently. Workbench in cutting area will always at the same level, ensuring the high cutting accuracy at high speed.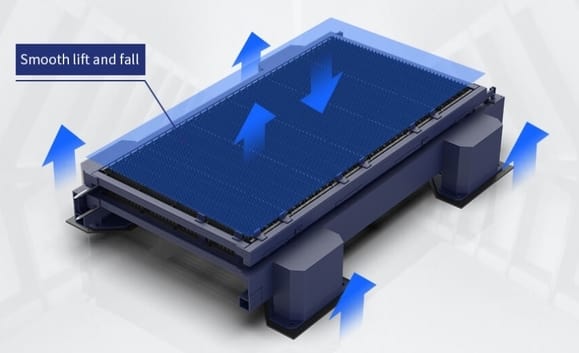 Patented Ventilation System
---
This patented structure is externally equipped with fast-cooling air duct, thus, high-temperature air will flow out from the outside, without any heat on machine bed, ensuring lasting durability;
The ventilation system, with right and left zone, is generally controlled by butterfly valve and has intensive suction, hence, which makes smoke exhaust smooth under the support of large-caliber fast-cooling air duct on both sides;
Patented butterfly valve damper performs well in airtightness and environmental protection, without any noise while opening and closing.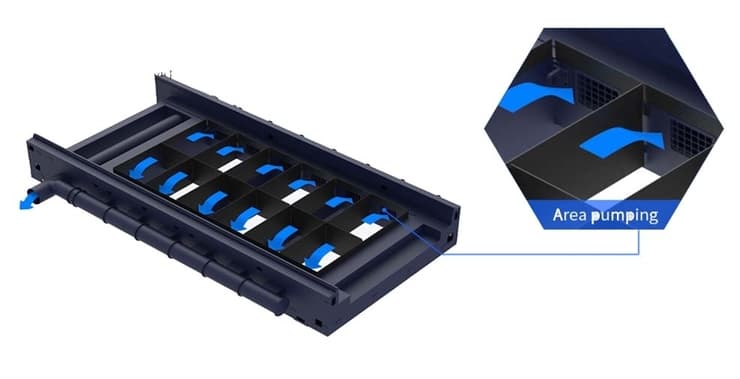 The 4th Generation Aviation Aluminum Beam

Low-pressure Air Cutting Technology
---
The cutting speed of air is 3 times faster than that of oxygen and has high production efficiency.
Low-pressure cutting, not like high-pressure cutting that requires high-pressure high-energy air compressor,
can save 50% energy consumption and greatly lower using costs.
Innovative Modular Workbench, Easy and Cost-effective Deslagging
---
Modular workbench patented and self-developed by HSG is easy to be dismantled and installed, without any effect on production;
Efficient and time-saving, safety guaranteed.

Simple Operation, User-friendly
---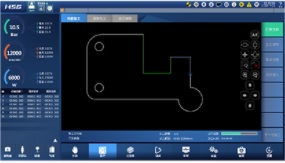 Alpha T Bus System
Self-developed by HSG, easy operation, perfect in function, reduce fault rate;
Data transmission featuring fast, stable and accurate only by a network cable; Improve stock layout efficiency and material utilization by 20% and 10% respectively, make accuracy up to 0.1mm at the speed of 30m/min.
---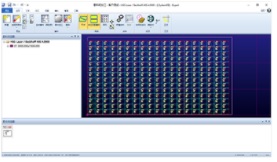 Lantek Professional Nesting Software(Optional)
Industrial interconnection, information exchange, docking with enterprise ERP system, real-time exchange of drawings and other engineering data; automatic layout with rectangular or real plate shape,
optimal algorithm to ensure maximum utilization of sheet metal;
statistical production reports, allowing you to process Time and production costs are well known.
---
Technical Parameter
| | | | |
| --- | --- | --- | --- |
| Feature/Model | G4020V | G6025V  | G8025V |
| Working Area (L*W) | 4000mm*2000mm | 6000mm*2500mm | 8000mm*2500mm |
| Stroke (X/ Y/ Z Axis) | 2050mm/4050mm/100mm | 2550mm/6050mm/100mm | 2550mm/8050mm/100mm |
| X/Y Axis Positioning Accuracy  | ±0.03mm/m | ±0.03mm/m | ±0.03mm/m |
| X/Y Axis Repositioning Accuracy | ±0.02mm/m | ±0.02mm/m | ±0.02mm/m |
| Max. Moving Speed | 169m/min | 169m/min | 169m/min |
| Max. Acc. Speed | 1.5G | 1.5G  | 1.5G  |
| Laser Power | 15000W~30000W | 15000W~30000W  | 15000W~30000W |
| Max. Loading Weight | 3500kg | 6000kg  | 8000kg |
| Machine Weight | 19800Kg | 24000Kg | 28000kg |
| Overall Dimensions (L*W*H) | 11500×3950×2400mm | 15500×4500×2400mm  | 19500×3950×2400mm |
Cutting Samples of GV Series
---